by Isaac Ntabankulu, Archivist, UCT Libraries, Special Collections
The Role of Women in the South African College
From small beginnings, the representation of women in the student and staff body of the University of Cape Town (formerly the South African College) has become an integral part of the University. In August this year, women students will be celebrating 133 years at UCT.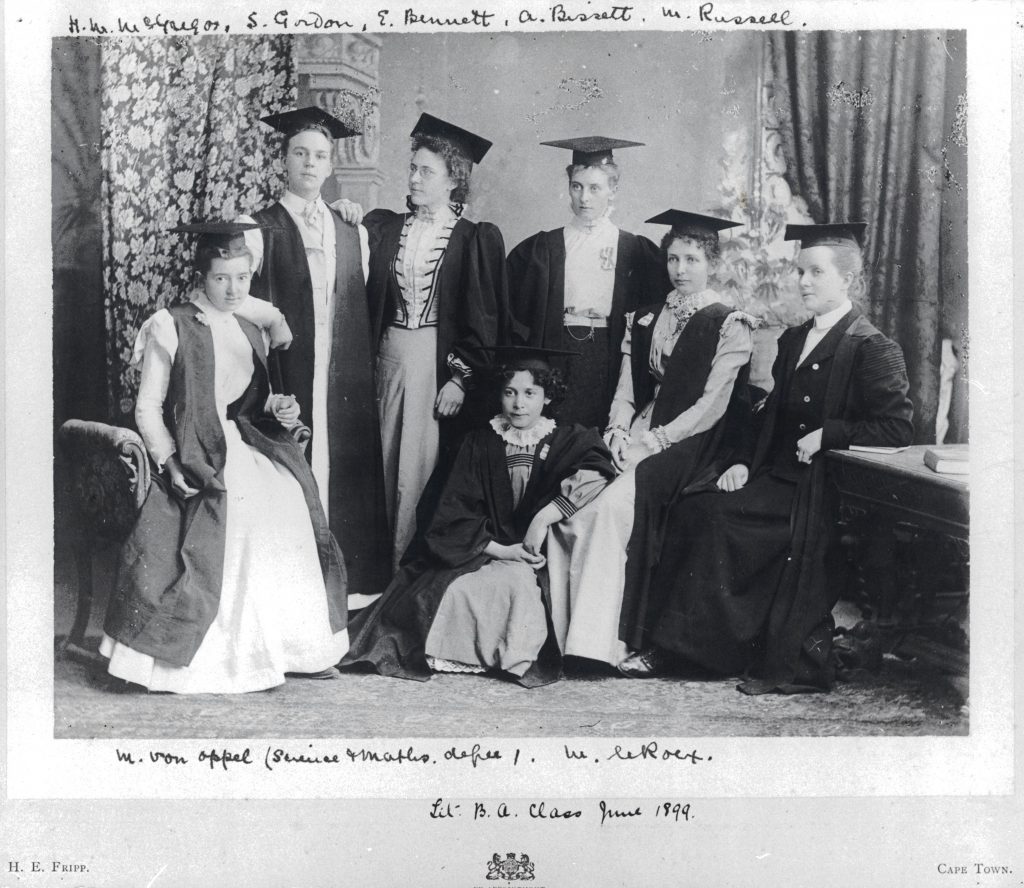 Women graduates of the South African College, 1899 (All Things UCT Collection, Special Collections, UCT Libraries)
Early days: Council decision to admit 'lady students'
The South African College was established in 1829, serving as the forerunner for the University of Cape Town, which was established in 1918. In 1858, a Board of Public Examiners was established in the British Cape Colony with powers to grant first, second- and third-class certificates for tertiary examinations conducted by the Board. By 1873 the University Incorporation Act was passed, and the Board of Examiners ceased to exist. Its functions were taken over by the University of the Cape of Good Hope. This made it possible for university students in the Cape Colony to write examinations to attain the Bachelor- or Master- degrees in South Africa.
During the nineteenth century there appear to have been no formal restrictions against women taking these examinations or being awarded degrees. However, women wishing to sit for examination found themselves seriously impeded because of the absence of any means of instruction in science subjects. There were simply no facilities for them to study at any institution for higher learning. Professor P.D. Hahn, who had for some years assisted the Good Hope Seminary by teaching their pupils chemistry and metallurgy, introduced the idea of teaching the female students at the South African College so that they could have the full benefit of the facilities available in his well-equipped modern laboratory.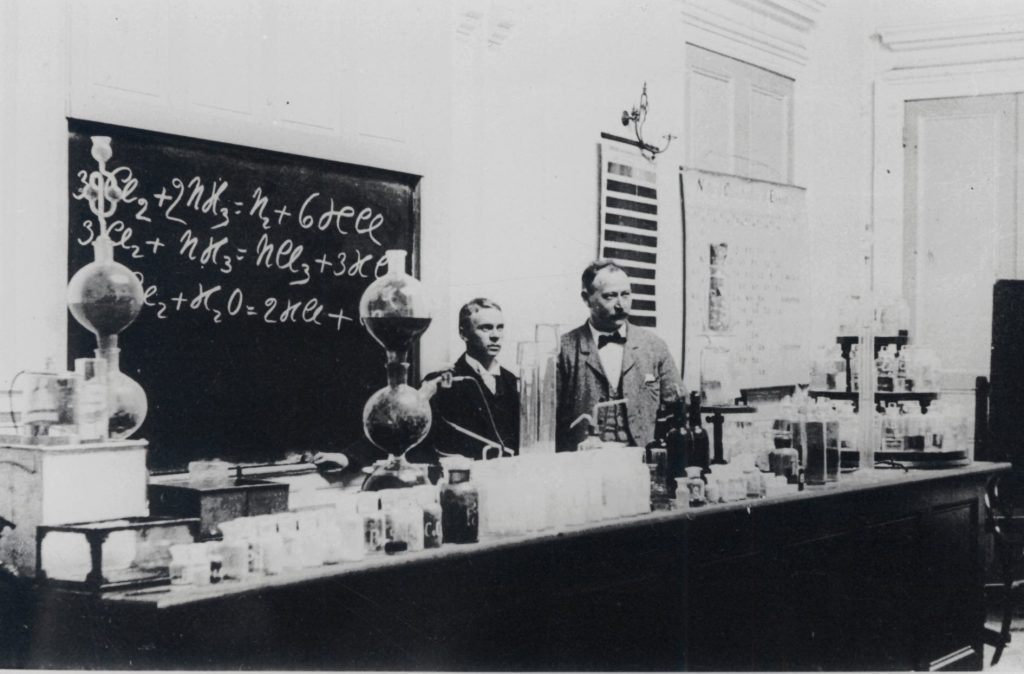 His proposal was presented to the South African College Senate meeting held on 24 February 1886. Ultimately, a recommendation was made to admit female students for a one-year trial to Professor Hahn's classes. Senate's recommendation was adopted by Council on 10 July 1886, with one exception: Rev. A. Steytler objected and wished to have his protest recorded.
The following month, four Good Hope Seminary students registered for Professor Hahn's Chemistry class. Minnie Buchanan gained Honours in the Matriculation examination the following year, and another, Emilie David, came First in both Chemistry and Classics, and gained a University Exemption in 1889. Clearly, the trial period provided an opportunity to demonstrate the value of allowing women to study at the university, and by August 1887 a special meeting of the South African College Council was held "to consider an application from the professors for permission to admit lady students." With Council's approval of this motion the South African College became a fully co-educational institution for higher education. About nine women registered in 1887, immediately taking advantage of the opportunity offered by the South African College. Two married women were among the first group, Mrs Jessie Rose Innes and Mrs Mary Sauer. They were both registered for one year only, 1887-1888.
Residence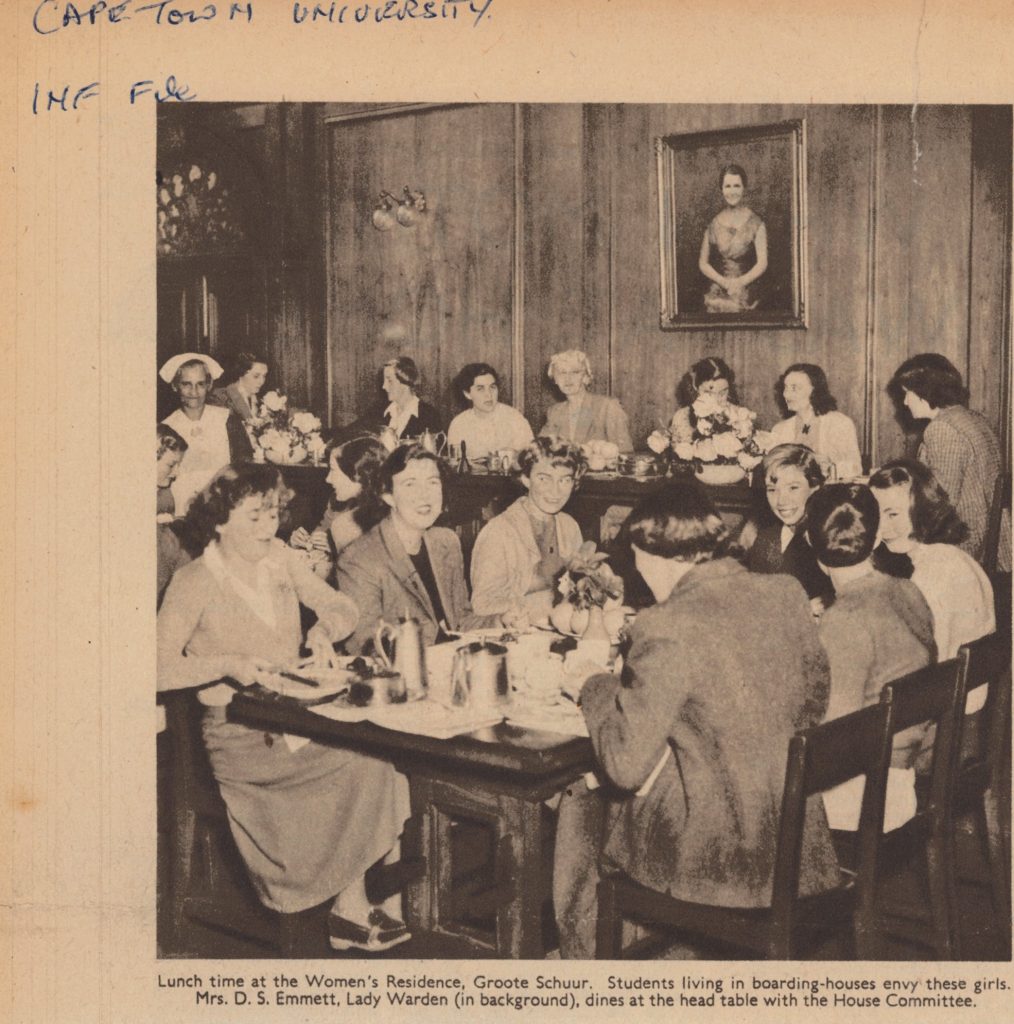 At first, female students arriving from around the country to study at the South African College were compelled to reside in boarding houses. A Past Student's Committee was eventually formed, headed by Mrs E.B. Fuller, to take measures to provide suitable residence for students close to the college. The first women's residence was opened on 20 February 1908 in Dorman Street, Gardens, with permission from the College Council. This was a hired house with a Mrs. Henry Hall as Warden. The committee of early female College Alumni felt the need for such a residence so strongly that they had collected among themselves a guarantee fund of £150 in case there should be a deficit. In time, a larger house was found, and owing to the gradual increase in numbers, the landlord proceeded to enlarge the house on payment of an increased rent. In 1913 a second hired house was opened in Union Street, and Hope Mill House was bought. This was converted into a residence for women students at the beginning of 1914, with Mrs Brown, a past student, in charge. In the same year, Mrs Tugwell, another past student, took over Arthur's Seat. The residences were subsequently brought under the control of the College Council, and the Past Student's Committee, having accomplished the work is set to do, was dissolved. In 1919 Mrs Tugwell took over Hope Mill, which remained the abode of the women students until the present Women Residence [Fuller Hall] at Groote Schuur [Upper Campus] was opened in 1928, with Mrs Tugwell as the Lady Dean.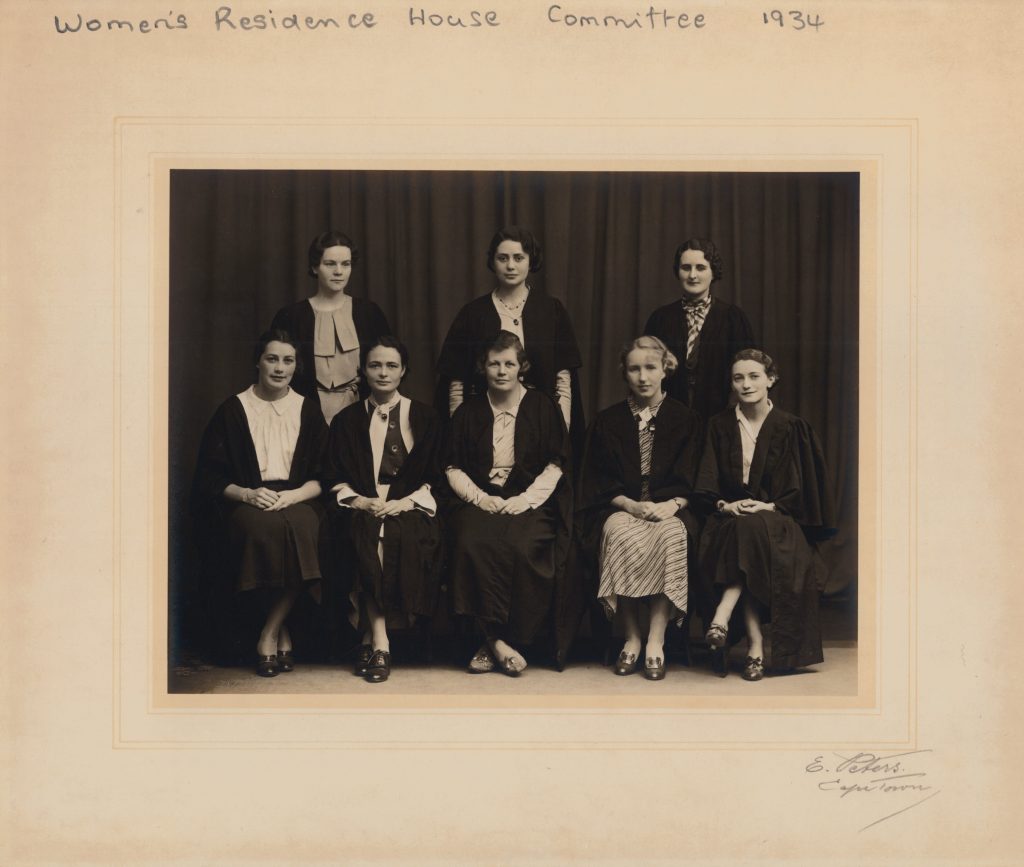 Student Representative Council
In 1906, the first Students' Representative Council was formed. Its members were comprised of male representatives of the various Faculties and Clubs, with only one female representative. By 1910, with the recognition of the Ladies' Hockey Club (formed in 1904) by the Students' Representative Council, it was therefore entitled to be represented on the SRC. By 1920 there were so many sports clubs that each could not be represented, and so the women students, like the men, had one sports representative for all clubs.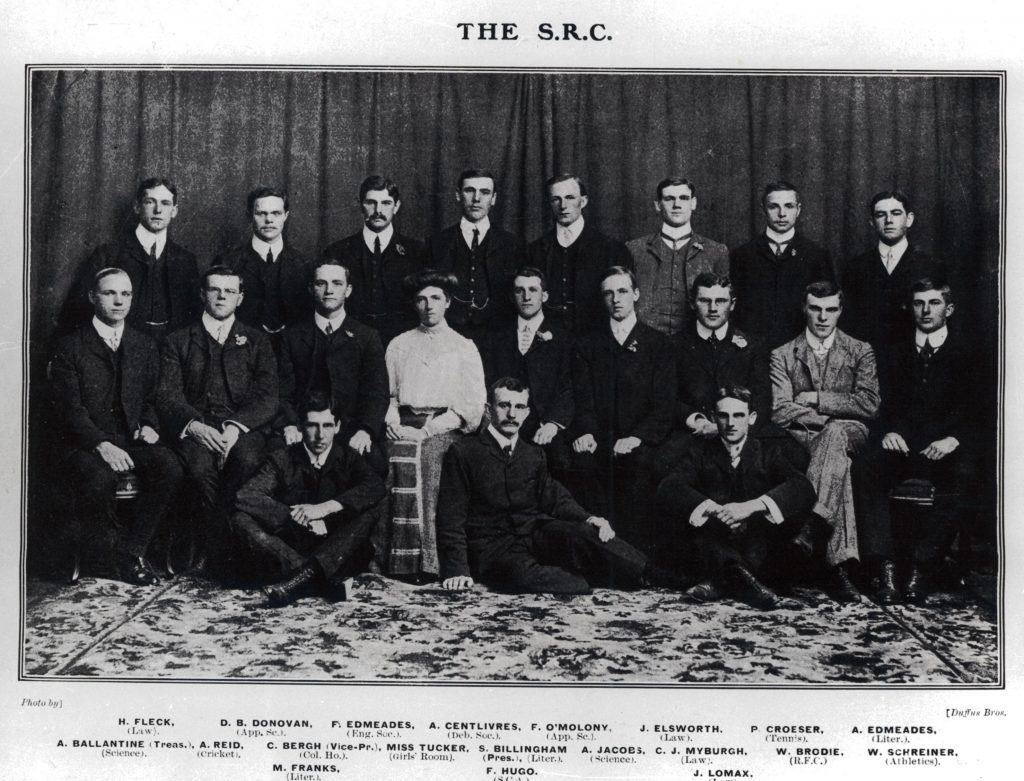 Sports
In 1898 the South African College entered a mixed team in the Western Province Tennis Competition. Despite the existence of Tennis, Netball, Swimming, and even Golf Clubs, Hockey remained the game centrally represented by the female students.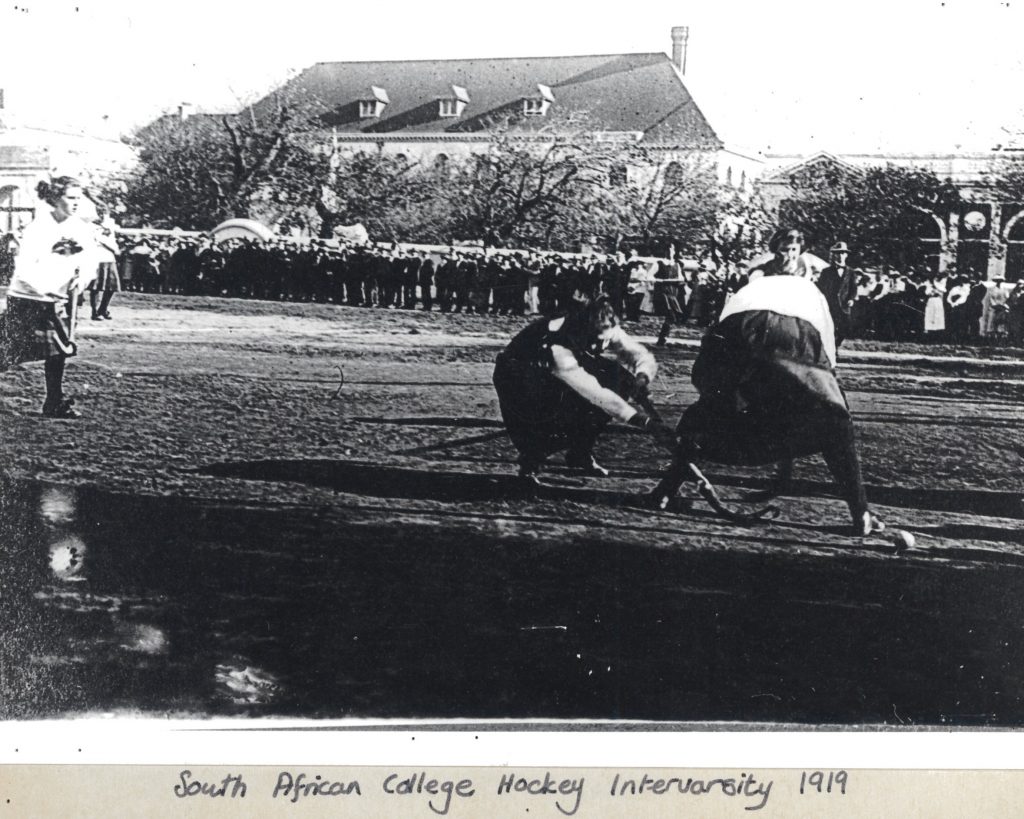 In 1904 a Ladies Hockey Club was formed, although membership was not restricted to students until 1915. This degree of integration of women students and their acceptance in what had been an all-male preserve until 1886, was a great breakthrough.
Employment
The South African College does not appear to have shown the same liberality towards women when it came to employment opportunities. The first woman to have been employed as a lecturer at the College seems to have been Miss Leila A. Wright. In 1911 Dr Harry Bolus died and left his Herbarium to the South African College and in his will appointed Miss H.M.L. Kensit (later Mrs Frank Bolus) as curator. From 1912 Miss Ruth Glover became an assistant in the Herbarium and a year later her sister Dr Glover also join the staff. In 1912 Miss E.L. Stephens was appointed as a leave replacement for Mr Saxton, lecturer in Botany Department and in 1914 Miss E.M.M. Hume was appointed to a second post of lecturer in the Botany Department. In 1915 Miss Hume was granted leave to return to England to undertake war work and Miss J.E Smith was appointed as her substitute.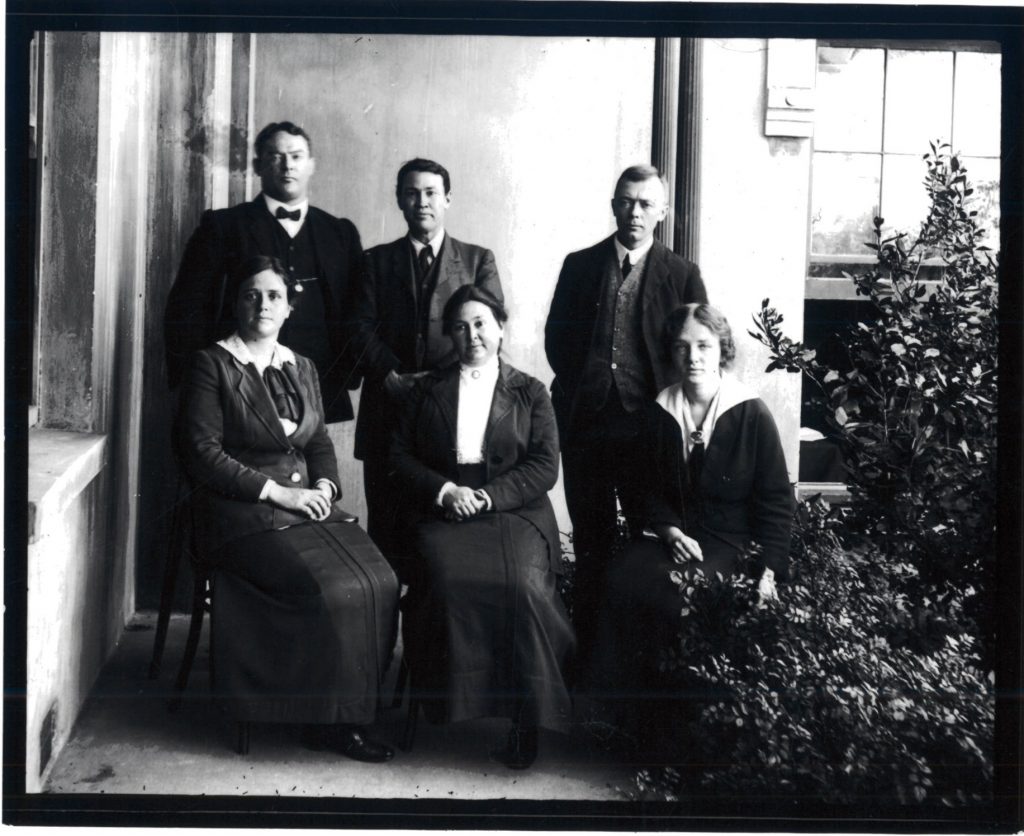 In November 1916 Professor H.H.W. Pearson died, and Miss E. Stephens was appointed as Acting Professor. The Science Committee's recommendation came only after considerable discussion, with the supercilious warning "that the interests of the department may be endangered if the period be unduly prolonged in which the Department is entirely staffed by women." At this stage, the Botany Department was the only teaching department at the S.A. College which was entirely staffed by women. It was a temporary situation necessitated by the participation of South Africa in the First World War, and came to an end in 1919 with the appointment of Professor D. Thoday.
Curating and commemorating the history of women of UCT
Commemorating what has been achieved by women students at UCT, the Special Collections Department has put up a display, sharing material on women students at UCT covering themes ranging from the admission of women students, women at residences, women in students' affairs, women in sports, women in employment and crime against women.
National Women's Day is a South African public holiday celebrated annually on 9 August. It commemorates the events that took place on this day in 1956 when more than 20,000 South African women of all races staged a march on the Union Buildings in Pretoria [Tshwane]. They aimed to petition against the country's pass laws that required South Africans defined as 'black' under the Population Registration Act to carry an internal passport; also known as a pass [dompas], this document served to maintain population segregation, control urbanisation, manage migrant labour and monitor the movement of Africans.
Sources used:
Phillips, H. 1993. The University of Cape Town 1918-1948: the formative years. Cape Town: Creda Press.
Ritchie, W. 1918. The history of the South African College 1829-1918. Cape Town: T. Maskew Miller.
SC UCT: BUZV Collection, "Women at UCT: The centenary of women (1986 and 1987)", Women at UCT by Etaine Eberhard.