Hi All,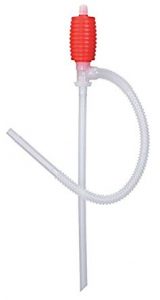 the siphon pumps we had were just useless!! I tried decanting ethanol yesterday and got SO frustrated! 3 pumps later and I used a funnel to pour the ethanol into bottles.
The pumps we had were from Kimix and ScienceWorld. I couldn't tell the difference between them, but they were all no good.
I'm in the process of trying to source better ones. As soon as I have samples I'll let you know so you can try them out.
Cheers,
Blommie