This past month Rlabs, partners in the UCT MOOC Becoming a changemaker: Introduction to Social Innovation, have launched their first in a series of cafes meant to support people to access the MOOC materials offline aimed at the communities which need it most.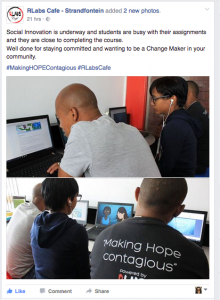 Becoming a changemaker is a free six week online course that takes participants on a journey of exploring the complex problems that surround us and how to start thinking about solutions. As with most MOOCs it is presented fully online but the new cafe in Strandfontein, Cape Town, creates an in-person facilitation component which is also free. Here students can go for information and get help with assignments or – for those who don't have easy access to wifi – to access all the content on the internet.
The course was co-created by the Bertha Centre for Social Innovation and Entrepreneurship and RLabs, a social movement 'born-and-bred' in Bridgetown, Cape Town that is now active in 22 countries; with assistance from the Centre for Innovation in Learning and Teaching at UCT, responsible for producing the university's MOOCs.
RLabs is a movement empowering youth through innovative and disruptive technology by teaching them vital skills and providing much needed support and a sense of community. In the words of Marlon Parker, founder of Rlabs and educator on the MOOC, "when you are immersed in the challenge, you are best suited to become a social innovator to tackle it."
Director of the Bertha Centre Dr François Bonnici says that this format of running the MOOC lessens the barrier of access to the internet and data costs as the content will be available offline to the participants and they can use the cafe's computers to access the course. Local facilitators also assist participants to complete the assignments and stimulate discussions about the specific context of their local community.
"The Strandfontein venue is really a place where people can come to connect, to brainstorm ideas and do the course online," says Parker. "There will be someone to help facilitate the course content offline, to explain concepts and provide further assistance." He says more of these cafés/campuses are planned – which forms part of their RLabsU initiative – from Atlantis to Hanover Park, as well as other venues across the Cape Flats.
For more information on the course or to sign up please go to: https://www.coursera.org/learn/social-innovation  
(Compiled from the Bertha Centre press release)