Asalaamu alaykum,
The UCT MSA Muslim Postgraduate Committee is excited to invite you to the first Muslim Research Expo taking place this week Friday and Saturday.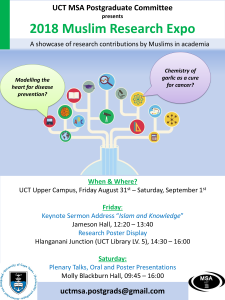 This will be a unique opportunity to engage with Muslim postgraduates from UWC, Stellenbosch and UCT on their research.
We encourage attendance by all Muslim postgraduates as well as your parents, aunts/uncles, siblings and friends.
The programme commences with the Jumuah Khutbah on Friday (31 August) followed by the poster session in Hlanganani (5th floor library) from 14:30 – 16:00 (Snacks and refreshments will be served).
On Saturday we will be having oral presentations from 09:45 – 15:00, along with poster and exhibition displays.
We will also be having 5 Madina Insititute 1-year Intensive bursaries up for grabs.
Please find the programme, book of abstracts and poster attached.
We look forward to seeing you there!
Watch Live if you can't make it:
https://web.facebook.com/126225360779162/posts/1900875366888240/?_rdc=1&_rdr
Shukran
Muslim Postgraduate Commitee