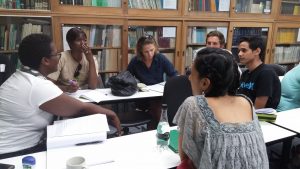 March was a busy month for our project team, as two workshops took place at the University of Cape Town (UCT).
Workshop on Identity and Consumption in African Cities
We had some wonderful conversations at our day-long workshop on 9 March 2017. Six papers were presented over the course of the morning, exploring consumptions through food purchasing, urban agriculture, and even Jacob Zuma's Pentecostalism. The conversations following each presentation were rich and thought-provoking, and the afternoon roundtable on methodology provided an opportunity for more informal reflection and sharing. Participants came from Johannesburg, Berlin, Edinburgh, Newcastle, Utrecht and of course Cape Town, and all made valuable contributions to the success of our first project event.
Conducting Interviews for Qualitative Research
On Friday 10 March 2017, Alex Hughes presented a half-day workshop on qualitative interviewing. Masters and PhD students from across the Western Cape attended, representing five different HE institutions. It was a great opportunity for learning as well as for informal networking and sharing of research experiences and challenges.
What participants had to say:
The workshop was valuable to me from the standpoint of just embarking on the interviewing journey. It provided input into very practical aspects of interviewing, such as gaining access to participants, asking sensitive questions as well as representing interviewees in your thesis. Since much of the workshop was grounded in personal experiences, it generated conversation which provided some great insight into how people are facing challenges as well as finding ways to overcome them. That also provided much needed support, in a PhD journey that can be lonesome, and you can end up feeling like you are the only one struggling with some of these issues. (Vrinda Chopra)
The 'Postgraduate Methods Workshop' has been illuminating and very practical in equipping me with the requisite knowledge and skills needed to enhance the use of interviews as one of my data collection methods during my PhD fieldwork. (Samuel Twumasi Amoah)
This workshop presented an opportunity to learn about and reflect on the practice of research, something that is rarely afforded to postgraduate students. The workshop created a space for reflection and interaction across the social sciences at UCT and beyond. Thanks so much, this was such a helpful and reassuring session. (Saskia Greyling)