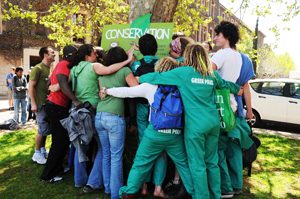 The Green Campus Initiative (GCI) has proven itself to be an industrious and committed group of environmentally concerned students; and not just during campus times, mind you.
Three GCI members will attend – as official UCT delegates – the 17th Conference of the Parties to the United Nations Framework Convention on Climate Change, or COP17, starting in Durban at the end of November.
Six more will attend the Conference of the Youth, or COY, that runs the weekend ahead of COP17, and other events during the summit.
The students will take part in events, workshops and parades, and use the opportunity to network, all while wearing their distinctive green overalls.
"From a GCI perspective," said the Initiative's Kate Pallett, who is part of the team organising the COY event, "we have a lot to learn from other students and similar organisations around the world, and similarly we think that students in similar projects can learn from our experiences and what we have achieved at UCT."
---
This article was originally posted in our old website.

All credit goes to the original author.