by Auliya Badrudeen
Auliya Badrudeen is a Principal Library Assistant at UCT Libraries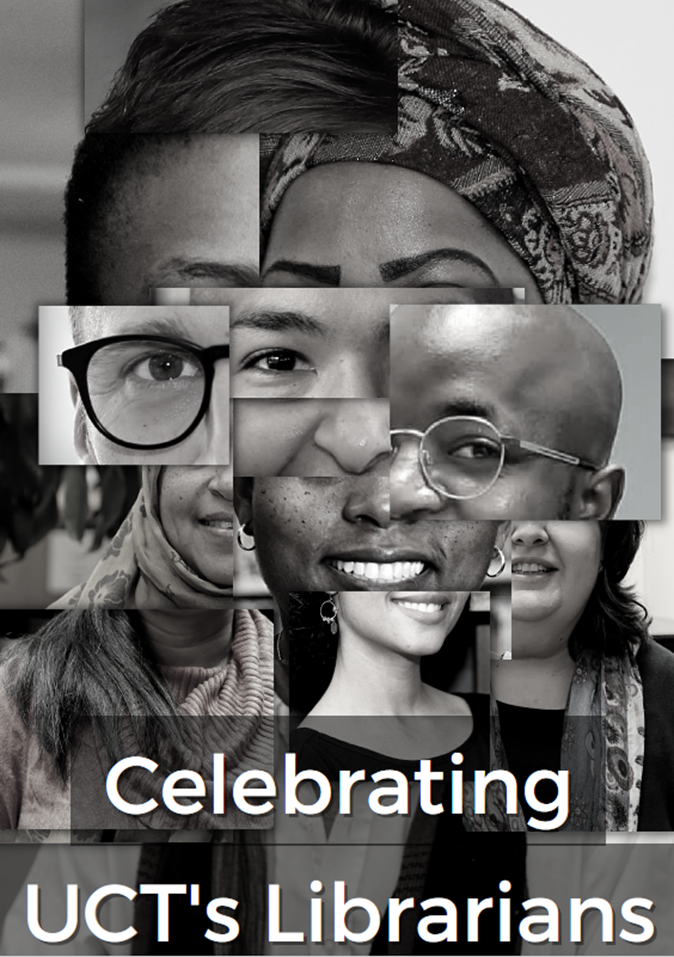 Beginnings. Difficult little buggers, aren't they? Beginnings put you face to face with the very arduous task of knowing where you're going. And I know that for many, myself included, knowing where you're going strays a little too close into an area of existentialism that we'd all much rather pretend doesn't exist. Your first year of high school, starting at a new job, beginning a new project, birth! Even smaller beginnings, like picking a topic for your thesis or putting down the first line of a blog post. Beginnings are always rocky. But sometimes, as I recently learned from what's become one of my favourite movies (Everything, Everywhere, All at Once), sometimes you just need to embrace it. Just be a rock. And this can mean any number of things, but in this case, the beginning of this blog post that is supposed to be celebrating the Librarians of UCT, that I've been staring at for a good two hours because I haven't the foggiest where to begin, even though I myself am trained in librarianship, but am historically very very bad at beginnings… I think it means embracing the fogginess and doing what librarians do best: ask questions. Or rather, one singular question. What is a librarian?
And with that, I think that I've made the ordeal a whole lot worse, because this isn't a question so easily answered. I'm sure that, when the word librarian is mentioned, a particular image comes to mind: old, bent, bespeckled, adorned in tweed in all shades of brown and brandishing a stamp. 'Shhhh!" says the librarian, pointer finger pressed against her curled lip. Psychic? Yes, indeed. Part of a very stereotyped discipline? Yes, as well. Which is actually a very strange space to exist in, because after you've challenged someone's airy comment on how nice it must be to read books all day, correcting it becomes almost impossible. Well, almost impossible with such a succinct statement as "I work with books". Because what do librarians do? A lot. We do a lot, we are a lot, and there are a lot of us. Which is why I thought, as a reflection on South African Librarian's Day 2022, that the answer to that oh so elusive question of "What is a librarian?" would best be gleaned from the hydra's mouth itself.
Starting with my colleague, Jaimee Reid, who joined me in scuttling around the library, breathing down people's necks to spare us a story or two (we got several! We are very persuasive, hehe). When reflecting on her position as a librarian for Undergraduate Services, Jaimee said the following:
I am a librarian, but I do not check books in and out. To be honest, I rarely touch books. I have yet to fully describe what I do as an academic librarian, but here are a few things I enjoy about my job: I love that my job is people-facing. I am not stuck in an office all day, I often get asked for help when the printer stops working, or when a computer freezes but instead of telling someone that that's not my job, I assist. I enjoy thinking up new ways to make the library an interesting place to be in for students. I am passionate about the library both physically and virtually. Sometimes my job can be stressful, but in those moments, I am just glad that I can still be mistaken as a student.
And this gave a really wonderful peek into the lives of those "people-facing" librarians. No real answer to what a librarian is, but Jaimee's story happened upon something that seems to plague the younger generations of UCT Libraries: yes, I am a librarian. No, I'm not a student.
Malixole Hlemfu, also from Undergraduate Services, went on to tell us a similar story:
My name is Malixole Hlemfu, and I work in Undergraduates Services located in UCT Libraries popular KC. Working as a librarian in this busy section, where I mostly help undergraduate students, has been a very interesting part of my job. Most students would think that I am not a staff member, but just a confident, short, and tiny student who walks around trying to help everyone.
Andiswa Mfengu, from the Department of Knowledge and Information Stewardship, a librarian who now teaches mini librarians how to librarian successfully, also spoke of her passion for helping others. And her challenges with ye olde librarian stereotype:
I am proud to be a librarian because I can make someone's life easy by guiding them to the right information to solve their information needs. I get to learn new things every day which puts me in a better position to pass this knowledge and skills to those I serve and interact with. I love working with people and the 'aha moments' they get when they realise the cool things librarians can do! At the info desk, researchers and staff would ask me (the librarian) where the librarian is. I guess I looked young and didn't fit the image they had in mind.
You see? Lots of baby faces at UCT Libraries. Or librarians with baby faces? Baby-faced librarians. Whatever the case, the library seems to attract a lot of people with a strong inclination towards service. So worry not, Malixole! Though you may feel that you're lacking in stature, your willingness to assist is boundless and appreciated.
Aside from a willingness to assist, a sometimes subtle, but oftentimes glaring trait that most librarians seem to possess is that of being a people person. Amina Adam, a librarian for Science and Engineering, spoke about this, as well as making connections with one's usership:
I am a firm believer that knowledge is power, and with this power, I am able to connect students, the faculty, and researchers with relevant information, allowing them to create new knowledge. I have been working at UCT Libraries for 32 years. I started working in 1990, at the age of 21, immediately after I had graduated, and have been here ever since. UCT Libraries was my first "real job" when I started out working as a "library assistant". 32 Years later, I am still with UCT Libraries, in my capacity as a Principal Librarian, which has been so rewarding, and I still enjoy coming to work every day. I love meeting people, and there is always something new that I learn every day. I enjoy finding information that I didn't even know existed.
Wow. I have very little to say to that, it's impressive all on its own. Except, of course, to wonder at the unimaginable feat of having survived a people-oriented profession for 32 years. Please don't misunderstand, I love meeting people, but I'm sure that there are many who would agree with me when I say that people are scary. They're beautiful and varied, brimming with experiences and thoughts and inclinations. They know so much more than you, while also knowing so much less. They know that you're a librarian, which means that you know things. They want to know the things that you know, and in telling them the things that you know, you now know, inexplicably, more than you knew before. You know this person, you know their questions, and you know their answers. People. Are. Terrifying. And you, a librarian, who these terrifying creatures seek out for help? Even worse.
You know what else is terrifying? The library's basement (read: dungeon) where all the ghosts that haunt the pages of all old books that live down there poke at the lights to make them flicker. Amina also spoke about the basement in what's possibly one of the best stories I've heard:
A few years ago, after I had just started working at UCT Libraries, I was doing shelf reading in the basement of the Main Library, which is a very quiet and lonely section of the library. As we all know, shelf reading is a very mundane task, and while straightening the books, I suddenly saw a hand coming from the other side of the shelves, trying to grab my hand! I had the biggest shock of my life and literally ran as fast I could. When my colleagues asked why I was running as if I had seen a ghost, I explained what had happened. It turned out that some of my colleagues were trying to play a prank on me because I was quite new on the job. We had a good laugh in the end, but I vowed never to go down to the basement by myself again.
What did I say earlier about people? Only people would give you trauma as a welcoming present. I jest. And of course, so did they! All in the name of what a number of colleagues brought up as the highlight of their careers: community. Jamie Hendricks, a librarian from commerce, spoke to us about this:
[I'm proud to be a librarian] knowing how hard librarians have worked to collect all the resources in the library and knowing that it was collected with passion and always to benefit the students and staff. We always try to make things fun for students by making puzzles available or creating interactive displays [for public holidays and events] like a blind date with a book.
[I love being a librarian for] the community. Not only are we learning and developing skills on our own, but we help each other learn and develop skills.
Indeed, the discipline of librarianship thrives through collegiality, learning from your colleagues and growing together. After all, those who learn together… yearn together? (I have no idea where I was going with that, but feel free to laugh at my shame. I care very much for my colleagues' amusement).
Ignoring that and speaking of learning, continuous learning is the very backbone of librarianship (although this discipline does seem to have many backbones, doesn't it? It's a hydra after all). As mentioned in the little existential tirade from earlier, as a librarian you find that you absorb little pieces of knowledge from every interaction, be it staff or student. We breathe it in like air; it's that natural and unconscious to us. Theresa Schoeman, librarian and communications and marketing extraordinaire, told us about why she loves her profession and capacity for continuous learning and development:
I love being in the LIS profession because I can advertise and promote Library services and products, including books & the importance of reading. There are so many opportunities in the LIS profession, one can learn something new each day. I love being surrounded by books, the smell of books (old and new) and having the privilege to do research and read in my free time. The LIS profession can open so many doors if you are willing to work hard and walk the extra mile. People normally expect you to have all the answers, so it also opens your mind to conversations and information so that you can have a wide variety of knowledge to either answer a question or direct someone to a contact that can assist. The LIS profession gives so many opportunities for being creative and innovative; I am always motivated to get up and work.
And, in the extra fancy field of academic librarianship, formal education is never out of reach. In fact, it's encouraged. Jill Claassen, librarian for scholarly communication, is a voracious advocate for the benefits of formal educations to one's professional capabilities:
My focus is on how formal education has assisted me in my professional development. I started in open access and scholarly communication, after completing a mini thesis on institutional repositories in the Western Cape in 2010. When I chose this topic in 2008, I did not know that my career would move in this direction. Naively, I settled on this research area as I enjoyed digital environments and wanted to do something that involved electronic databases.
18 months after graduating, I started in a new position as the institutional repository manager, which was also in a new department, at the University of the Western Cape Library, mainly because of my thesis. There was a lot of focus from the university on making a success of this fledgling library service. New workflows, policies, governance, training, infrastructures and advocacy drives had to be established and it was the literature, research findings and recommendations of my thesis that provided me the foundation to further explore this then emerging librarianship area and implement structures and standards. The resources I used in my formal studies gave me the springboard to become a lifelong learner in open access and scholarly communication.
As this area of librarianship is constantly changing, I decided to continue with formal education as it allows me to keep abreast of the evolving trends and practices, both nationally and internationally. As I have to read for my studies, I have noticed that it has impacted the language I use when engaging with the research community and other stakeholders. My reading and writing in open access and scholarly communication for my formal education have given me confidence to speak on this niche area of librarianship. In conclusion, my formal education has ensured that my critical thinking skills have developed to learn and have a deeper understanding about other areas within academic librarianship.
Knowledge truly is power and librarians wield it well. Never engage a librarian in an unfair or senseless argument. With years of studying under the belt, and if not studying then years of hands on experience, they are well equipped to destroy you in five sentences or less. More than that, they'll cite their sources.Alright, it's impressive, but also sounds a bit boring. Maybe not to us nerds, but certainly to the general public. But then how do we express this? Alex D'Angelo, librarian for humanities, put it succinctly:
Theoretical librarianship is inherently boring. The practice of it is fascinating, you learn something new every day. The reason, the real stuff, the real practice of librarianship is so fascinating is because you're dealing with real people and the questions they ask and the actions they take to achieve the answers to those questions really absorbs your full interest
Coming back to the idea of community, in addition to the community of colleagues, librarians also come to develop bonds with their usership. Understandably so; there is a certain intimacy that develops when one assists someone with a problem. You become invested, aware of the details and circumstances. After all, those who- no, no, let's not have that again. Rather, let's listen to Noziphiwo Sigwela, a librarian for Science and Engineering, who spoke to this with far more grace than I:
I work at the Built Environment Library at UCT. I started working here in 2008. Coming from a vibrant library such as Law, the Built Environment library looked more like a boring library. Everything looked the same (I reckoned everything looked brown-ish). I am the only staff member who had 4 different bosses, hahaha maybe I scare them away.
I quickly realised that I had to learn the language here. Not sure what language because these people, they speak English, but not the one we understand, but some or other dialect. Quick adaptation was the only thing that would work for me, and I did just that; now I am one of them. Architects are very funny people, they wear black, and I am still trying to understand why? But most of the time I find myself wearing black. Oops!!! I guess I'm fitting in, LOL.
I wake up everyday and come to work just for my people. That's how life is at a branch, they become your people, no longer students, and lecturers. We get to know each other at a personal level. We know our students by their first names. I sometimes get lost when they are continuing with a story that we talked about the previous week as if I still remember it. That's when I go "aaa, mmm, ee e" until I figure out what the person is really talking about. They trust me too much to disappoint them. The level of respect that you get, and the appreciation is what keeps us motivated.
Then comes graduation time with its emotions and tears. When the students introduce their parents to you with so much pride, mentioning each staff member by name. That's when I know my work is done…
I cannot put it in any better words. Nozi speaks as someone so immersed in her community, so very dedicated, that the job becomes less of a job and more of a calling. This is something that Glynnis Johnson, a librarian from commerce, spoke to us about about:
I started in Libraries very late in my life. I did an undergraduate and Honours degree at UCT (1996 – 1999) and then I worked in Cape Town, Johannesburg, Durban, and New Zealand for 10 years. I returned to Cape Town in 2009. I worked for a year at the UCT Health Sciences Campus on an HIV-TB study run at the Khayelitsha Site B clinic as a contract UCT staff member. When my contract was nearing its end, my sister, who studied her BBibl at UCT in the 80's, sat me down and said to me that librarianship was in our blood (my uncle, aunt, sister, and cousin were all librarians) and it was time for me to heed my calling. And so, in 2011, I applied for the PGDipLIS and was successful in my application. I was 34 years old at the time. It was an amazing year. It was the year I met my husband, Lucian, and I met Michelle Kahn (now a lecturer for DKIS), Tracy Muir (Children's Librarian, Cape Town City Library and Ottery Public Library), Anya Kohler (a UCT Libraries cataloguer who then moved to Italy), Andrea Walker (Archivist, Primary Collections) and Tamzyn Suliaman (Librarian, Research & Innovation). 2011 was also the year that DKIS (then known as LISC) was going to be closed down due to low numbers of applicants or registrations. The LIS profession locally and globally banded together and managed to keep the UCT LIS school open. It was truly an amazing year which led me to apply for a position in the Knowledge Commons and I haven't looked back since. I love my career with such a deep-rooted passion. For me, librarianship is a calling not a job – and I am grateful to have found my place in the world.
Ah, beginnings, we meet again. Apart from baby-faces, people persons and continuous learning, something that kept coming up in speaking to colleagues were stories of their beginnings. Despite their awkwardness, beginnings are things that we can all relate to and easily make conversation about because, like it or not, we all go through them. Engela Britz, librarian for humanities, who spends her days at UCT's WH Bell Music Library being serenaded by soft jazz music, told us ridiculous situation she found herself in at the beginning of her library career that, personally, I found all too relatable:
In my first year of working at the Music Library, I had a terribly stressful weekend. It started on Friday morning, when a lecturer from the South African College of Music came to the library and asked for the shelf number of "Bach's keyboard concertos for 3 harpsichords". He had come to fetch the scores for the 3 pianists to learn and practice their parts over the weekend, because the first rehearsal with the orchestra would take place the coming Monday. So, I performed a quick secret Google search for the special 'catalogue number' (the BWV number) of the work and suggested that it must be BWV 1063. I then searched for 'BWV 1063' on our library catalogue, got the shelf number, and issued the 3 piano scores to the lecturer. But later that day, at about 16:30 in the afternoon, the orchestra manager came in to collect the parts – that is, the parts of the entire orchestra. But they asked for BWV 1064. I connected the dots, and I asked if that was correct because the pianists had fetched BWV 1063 earlier that day. They assured me that the orchestra was playing BWV 1064, not BWV 1063. So, I had issued the wrong work to the pianists! In a panic, I called the lecturer, but he had already gone home for the day. I sent an urgent email explaining the situation. But there was nothing more to do but wait; I spent the whole weekend worrying about the fact that the soloists were practising the wrong work over the weekend, and it was all my fault! Fortunately, on Monday morning, the lecturer responded that I had issued the correct work to them, and that the orchestra manager had been mistaken! I was so relieved, but from that moment on, I made sure to always ask "Are you sure that's the correct work?"
I, for one, would simply have passed away, instead spending a weekend worrying. It's rough out here for newbies, but let's hear from two colleagues who haven't been newbies in the longest time. Russel and Johnathan Williams, no relation (or so they say), are librarians who man the mighty ship that is user services. The following extract is taken from a longer piece written by Kaela De Lillie, a librarian at Interlibrary Loans, who chatted with Russel, from Interlibrary Loans, and Johnathan, from Access Services, about their awe-inspiring history at UCT:
Averaging at almost 40 years of service each, Johnathan and Russel grew up within and alongside UCT Libraries. Russel grew up in Manenberg against the backdrop of the Group Areas Act during the Apartheid era. "When I got to UCT, it was a real culture shock, being exposed to the English language, academics and even computers all at once was like the opening of a whole new world for me" says Russel, who commenced his journey at UCT as a cleaner. Johnathan, who grew up in Retreat post-forced removals shares the same story. They all started together as cleaners in the library and worked their way up the ranks. Both men, keen sports enthusiasts, have said that sport was the core of what united them and created a sense of community, of family, within the library.
They worked hard but played even harder. Johnathan and Russel recall playing 5s and 11 a side soccer alongside and even against UCT academics and students alike. Johnathan recalls: "Professor Van Sittert played 5s aside with us while he was still a student and now, we supply books to him as an academic".
That deserves another wow, I think. The best stories are the ones that pull the words straight from your mouth and replace them with wonder. Actually, the current dynamic of Interlibrary Loans is also a thing of wonder, when you really think about it. On the one hand you have librarians like Russel, who's experienced so many beginnings at UCT Libraries, and on the other you have librarians like Kaela, who's in the midst of her most recent beginning as we speak.
Kaela, along with Malixole, myself and few others, are the newbies of UCT Libraries, having started work in our respective sections in October of 2021. Kaela started as a library buddy in 2018 and while many of us newbies struggle with being mistaken for students, Kaela perhaps struggles with it the most. She spoke to us about her time at UCT Libraries as the only Gen Z member of staff:
I'm Kaela De Lillie. I've been at UCT Libraries for going on 10 months now as a member of interlibrary loans. I believe one of the biggest superpowers librarians have, is the ability to find absolutely anything. Alas, I have searched and searched but haven't found anyone younger than I am. A few colleagues have started calling me the baby of UCT Libraries at a ripe 23 years old. Every other day, some security staff still need to be mildly reminded that I am one of the librarians here. One of my colleagues once referred to me as a millennial and quite embarrassingly, I had to admit to them that I am a Gen Z. It is, however, incredibly lovely that many a Baby Boomer, Gen X and some millennials have somehow inspired me to become a librarian and it's my greatest hope that I could do the same for the many generations yet to come – defying one "glasses, cardigan and shhh" at a time.
Defying that librarian stereotype is something that Kaela and I talked about often during our undergrad together in 2017 through 2019, when we were still conspiring to work at UCT Libraries in the next 10 years or so (the universe really cut that number in half for the two of us). And though I never planned on adding my two cents to the mix, I was forced to by Jaimee (violently shakes fist at the sky), so find below my ramblings on one of the many things that makes me incredibly happy in my career:
My favourite way to wear my hair is pixie short and bright blue. I've got about 15 tattoos and counting. I hate how my fingernails look without nail polish. Oh, I can also fit a pencil through my stretched ear lobes! My outward expression being entirely representative of my inward person (i.e., a creatively chaotic little goblin) is something that's very important to me. So, back when I was studying Physiotherapy (big mistake, I'd have been the worst physio), finding out that all these things that made it easier to look at myself in mirror would probably make me less hireable (at least that's what I was told), was one of the many straws that broke this little goblin's back and had her sprinting away from Health Sciences all together.
A full career 180 later and I cannot describe to you the peace I feel in where I am on my life path. The environment that I'm in at UCT Libraries, and actually my career as a librarian altogether, allows me the freedom to present myself to the world as ridiculously as I please. Haha, take that, Health Sciences! This also extends to our patrons and really, that's what I love most about my profession: regardless of how much metal you have in your face or how tattered your shoes are, there's a place for you at the library and we have so much information to share. And it even goes beyond aesthetics. Whatever race, religion, gender, sexuality, etc, it's a huge part of my job to ensure that your information needs are met. How cool is that?! And, sure, students still get super confused when they ask to speak with the librarian and I say, "hello, 'tis I! How can I help?". But that also means that I'm well equipped to engage with them on their own level. I mean I'm not that much older than them, even though my knees creak hehe. Should I be laughing or is that kinda sad? Oh gosh, maybe the ageing starts earlier for librarians and that's why we're stereotyped? I mean I do have an office tea collection. And sometimes I knit. Anyway, the students definitely wouldn't know it if they looked at me.
Now, going on about nine pages of writing, I wonder if we've finally answered our question at last. It still isn't clear cut is it? Damnit. Or perhaps, an opportunity to reflect. Librarians are information specialists, armed with glaives of knowledge. With it we smite down ignorance, while also gently tapping upon the shoulders of those who seek it out; knights of scholarship, both community and colleague. We serve each other just as much as we serve the population, taking each interaction as an opportunity to learn. And continuously do we learn, constantly upskilling ourselves to be better at our craft. Not the best, of course, as we're a humble bunch. The old learn from the young and vice versa. Some librarians teach their users. Other librarians teach librarians. Some librarians properly fit the stereotypes, while others make it their life's work to break them. Some librarians are old and some are babies. Some started at the library and never left. Others hopped about until they got caught in the maelstrom they're in now. A lot of us had rocky beginnings, but here we are embracing that rockiness, pillars of the community, one and all. What is a librarian? Perhaps some final words from Ujala Satgoor, librarian and executive director of UCT Libraries:
… I worked in a container library in Northdale and this was a container library that serviced this lower income area… And so it serviced lots of children, it serviced the local schools. It also had a very strong women's group that used the library as well. And so you could see the impact that this little container had on that community… We would have cues of kids immediately after school was over, coming to the library every day, they would take their books and come back the next day and that's when it also started me on my journey of saying how a librarian could be an influencer. And that for me was very important. The librarian as influencer, and you can only do that if you are attuned to what it is your community wants. What is it they require? What is it that you have that can make a difference to that community and how you influence the development of a young child to an adult?
And so the role of librarian as an influencer is very, very crucial, because this is where you apply your skills to collection development, you apply your skills to community engagement. We talk about outreach. What is it that you're actually reaching out to your community about? And so that for me is very very crucial…. It's not what social media talks about an influencer, but also in a similar way you are influencing the intellectual development of an individual… We're not just saying, "oh, well he we are here to support our users needs." We are actually influencing… We are influencers of the mind and the intellect. You are influencing people. You are tempting them to read certain things or to use certain things or to access certain things. And so you know, we always say, "Oh well, that's our role to collect stuff and to buy certain things." No, we do it for a purpose….
… the second aspect that was very important for me again was with the Don Africana library. That is a special library. Then I joined the Consulate of India and was responsible for setting up their Cultural Centre in Durban. And that again was a special collection. And that exposed me to the whole notion of being a custodian of knowledge. And custodian of special knowledge or different types of knowledge…
… People need to understand that when you talk about managing a library, what does it mean? … it's important that we actually challenge the stereotype. And we can only challenge the stereotype when we begin to challenge ourselves or our practice. And so it's important for us to be very, very clear in terms of what are the relevant skills that we require for a contemporary practice. It's still about facilitating access to information. You know, this whole notion of that we are, you know all of the information… move away from that, we know we deal with information… we are information specialists, etc. But how do we apply our skills to different contexts? Am I only able to apply those skills when I'm within the UCT context? Or can I go out there, even in any other organisation… apply those skills, because we say a librarian is a librarian is a librarian…
… I think we have to be honest with ourselves as well, because librarianship is not your first choice. For many people, it's not your second choice. It's not your third choice. For many, it's their last choice. And so you're getting somebody who desperately needs to go to university to get a degree. And end up in this extremely, extremely powerful environment. es, and you know, we fail to recognize the power of a library. On the one hand, people say, "Oh, but it's wonderful, you know that. You don't have to worry about constantly marketing the library because we know you are there." You cannot take us for granted. Libraries have to be very, very visible, and who makes them visible?
Us. We do that. Librarians are librarians are librarians.