'n Huldeblyk aan ouma Griet "Babatjies" Seekoei | A tribute to Ouma Griet "Babatjies" Seekoei
deur Bonny Sands & Kerry Jones | by Bonny Sands & Kerry Jones | Afrikaanse vertaling deur Francoise "Betta" Steyn | Afrikaans translation by Francoise "Betta" Steyn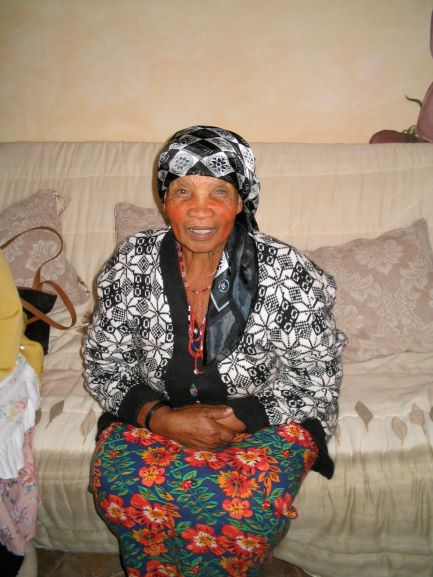 Ouma Griet "Babatjies" Seekoei se handsak was altyd byderhand. Die handsak, haar vrolike lewensuitkyk en jeugdige giggeltjie, al was sy oud. 'n Regte ouma vir haar familie, maar ook vir die groter ǂKhomani San gemeenskap. Ouma Seekoei was een van die heel laaste N|uu sprekers. Vir die afgelope twintig jaar het Ouma baie ure  spandeer om saam met toegewyde taalkundiges en entoesiastiese  gemeenskapslede haar taal te dokumenteer en sodoende te probeer bewaar. Hierdie samewerking getuig van die gedeelde oortuiging dat die sprekers van N|uu en die bydrae wat hulle gelewer het, in die Suid-Afrikaanse geskiedenis erken moet word.
Ouma Griet "Babatjies" Seekoei always had her handbag nearby, along with a cheerful disposition and a youthful giggle, despite her old age. Ouma in the true sense of the word, not only to her family but to the ǂKhomani San community at large. As one of the last known speakers of N|uu, Ouma Seekoei dedicated many hours to the documentation and preservation of her language over the last twenty odd years, along with dedicated linguists and passionate community members. Such collaborations are testament to a shared conviction to acknowledge the speakers of N|uu and their voices in South African history.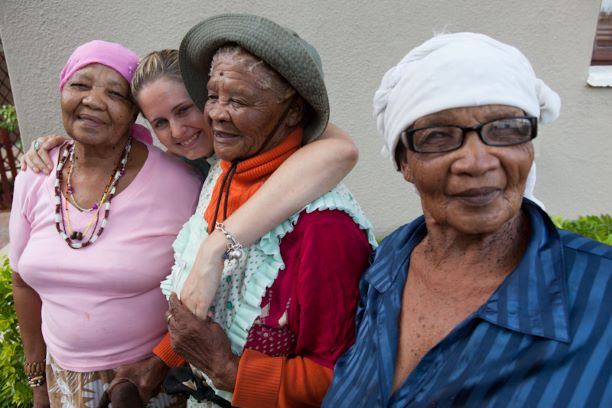 Gedurende die jare '90, het Ouma Seekoei en ander N|uu sprekers soos Katriena "Geelmeid" Esau, |Una Kassie Rooi, Elsie Vaalbooi, Andries Olyn, Hannie Koerant, Kheis Brou, Johanna Koper en Antjie Kassie baie ure saam met taalkundiges Nigel Crawhall, Tony Traill en Levi Namaseb spandeer om die geskiedenis en konteks van hul taal te verduidelik. Daar is voor hierdie tyd aangeneem dat die taal reeds uitgesterf het. Volledige verslae van hierdie saamwerksessies is opgeneem in die ǂKhomani San| Hugh Brody Versameling wat as deel van die 'Special Collections' by die Universiteit van Kaapstad gehuisves word.
In the 1990s Ouma Seekoei spent time with linguists Nigel Crawhall, Tony Traill and Levi Namaseb along with other N|uu speakers such as Katriena "Geelmeid" Esau, |Una Kassie Rooi, Elsie Vaalbooi, Andries Olyn, Hannie Koerant, Kheis Brou, Johanna Koper and Antjie Kassie to provide a history and context to their language which was previously thought to be extinct. Detailed accounts of these interactions are found in the ǂKhomani San | Hugh Brody Collection housed at the University of Cape Town, Special Collections.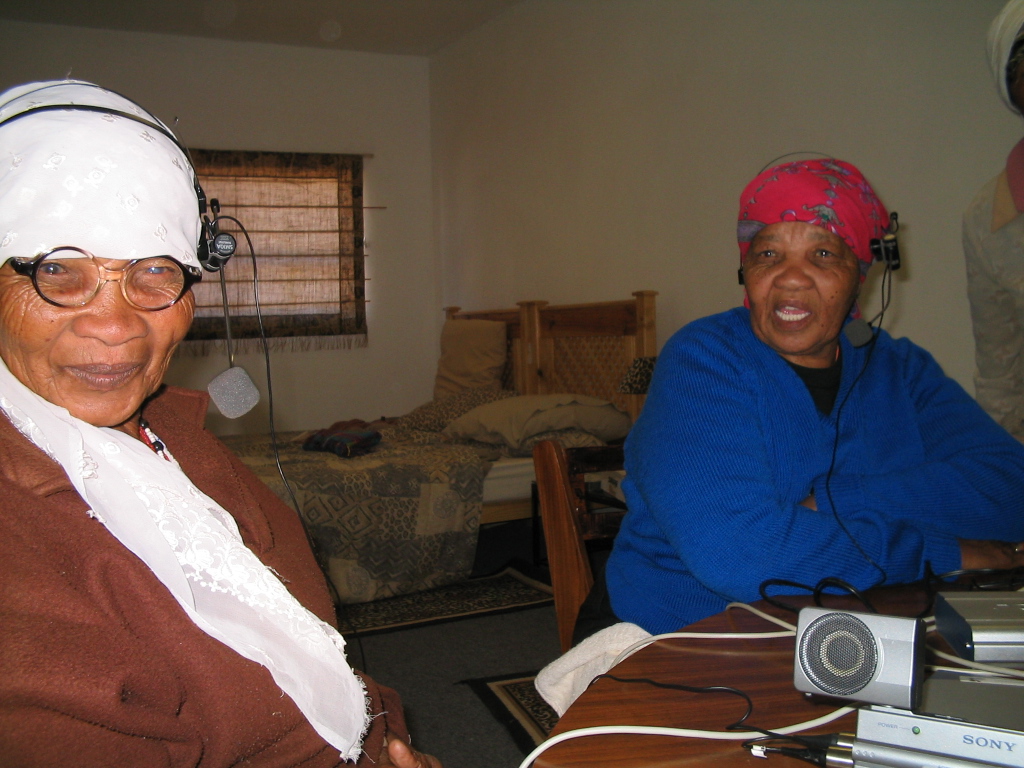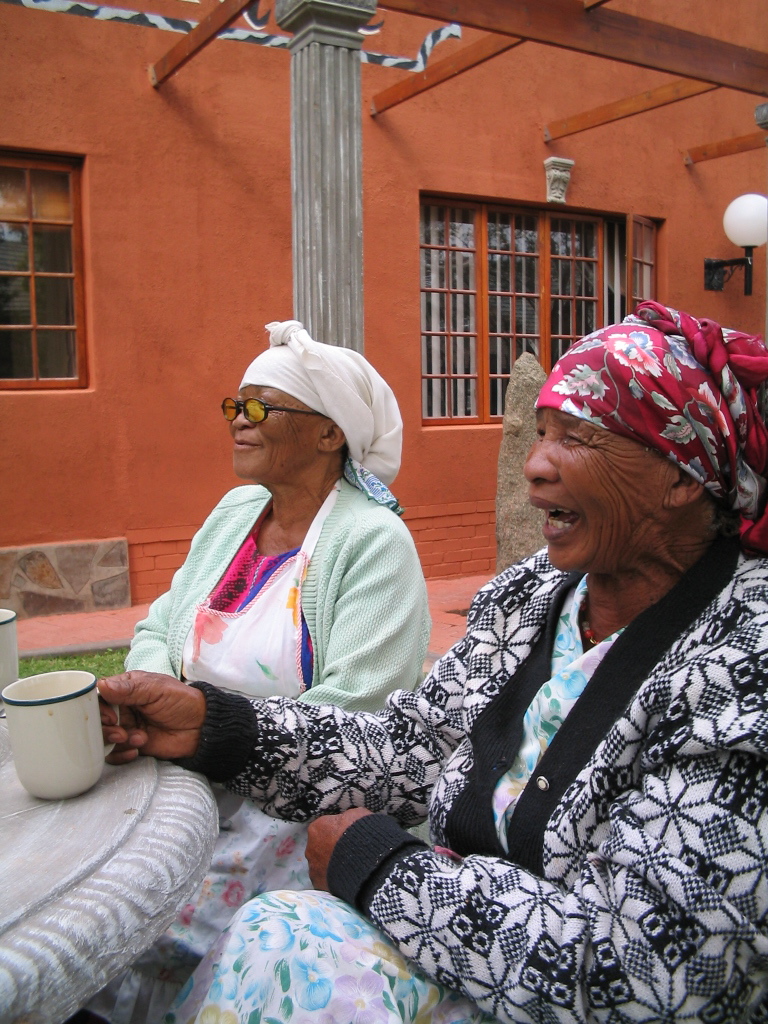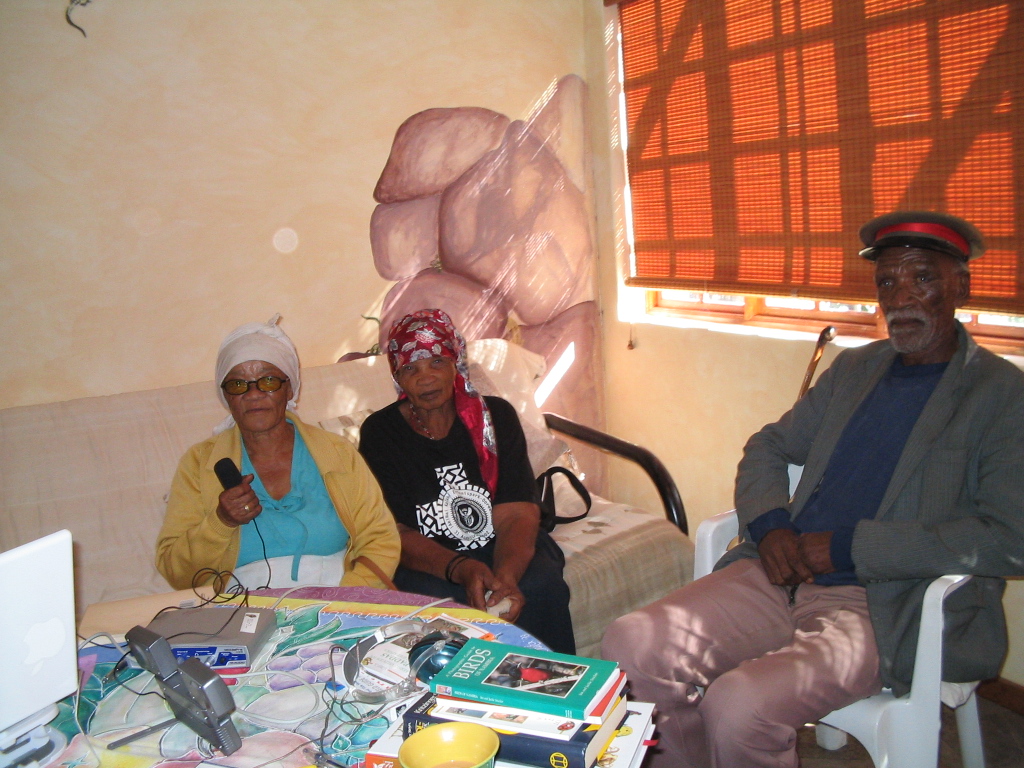 Later in die jare 2000 is N|uu deeglik deur Chris Collins, Amanda Miller, Johanna Brugman, Levi Namaseb, Bonny Sands, Alena Witzlack-Makarevich, Tom Güldeman, Mats Exter in samewerking met die oorlewende N|uu sprekers gedokumenteer en sodoende is 'n gedetaileerde verslag van een van die mees ingewikkelde tale in Suider-Afrika saamgestel.
Later in the 2000s N|uu was carefully documented by Chris Collins, Amanda Miller, Johanna Brugman, Levi Namaseb, Bonny Sands, Alena Witzlack-Makarevich, Tom Güldemann, Mats Exter and others along with the remaining speakers of N|uu in order to provide a detailed record of one of the most complex languages in southern Africa.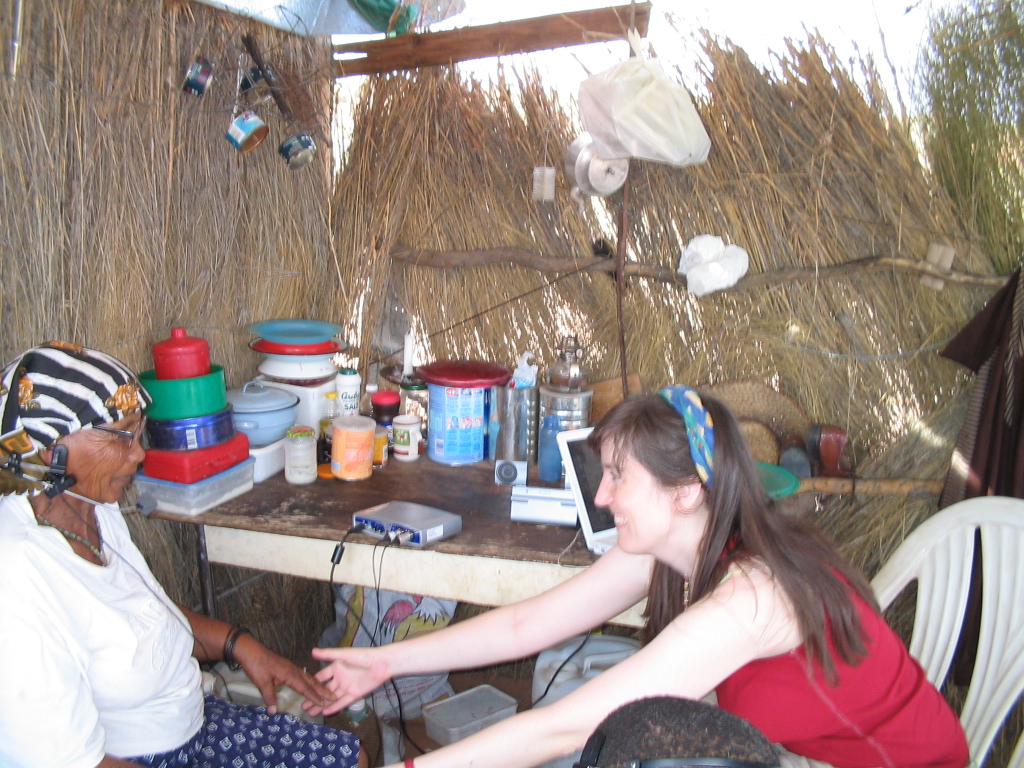 N|uu is 'n ernstig bedreigde taal en hierdie dokumentasieproses was onontbeerlik om die ǂKhomani nalatenskap vas te pen voor dit te laat is. Die gereelde werksessies waartydens die taal op band opgeneem en neergeskryf is, was dikwels lank en uitputtend, maar ouma Griet se N|uu grappies wat sy met haar taalgenote en later ook die navorsers gemaak het, het groot plesierigheid verskaf. Sy was geduldig terwyl ander met hul onwillige tonge die kliek-klanke probeer naklank het en sy sou grappenderwys oor en oor die klank herhaal tot die ander se pogings verbeter het.
As a severely endangered language this documentation process was integral to capturing ǂKhomani heritage before it was too late. Ouma Griet was always a joy during these often, long and tedious recording sessions. She especially loved to make jokes in N|uu to her fellow speakers and later to the researchers. She was patient as others tried to mimic the clicks and would often repeat herself jokingly over and over again until their attempt had improved.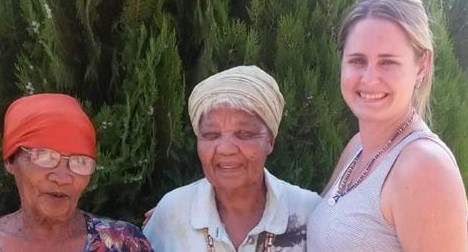 Haar beleefdheid, geduld en sin vir humor het nie met die ouderdom verdwyn nie en hierdie kenmerkende persoonlikheideienskappe het behoue gebly toe sy op hoë ouderdom saam met Kerry Jones begin werk het om transkripsielêers van die ǂKhomani San | Hugh Brody Versameling – wat gegrond is op die beskrywing en dokumentasie van Miller, Collins, Sands en ander – saam te stel. Wanneer sy na ou filmmateriaal gekyk het, het sy haar vriende geterg en heerlik vir haarself gelag oor die deurmekaarspul en die navorsers se vreugde waar sy op band en in N|uu verduidelik hoe om tsammapap te maak en hoe heerlik die pitte is as mens dit braai en maal tot wat sy "peanut butter" genoem het. "Dit smaak lekker!"
Her grace, patience and sense of humour continued into her old age when she collaborated with Kerry Jones who created transcript files from the ǂKhomani San | Hugh Brody Collection based on the description and documentation work done by Miller, Collins, Sands et al. She teased her friends upon seeing old film footage, and laughed at herself in the confusion and delight of the researchers as she explained on tape in N|uu how to make tsamma pap and how delicious it is to roast and pound the seeds into what she called "peanut butter". "Dit smaak lekker!"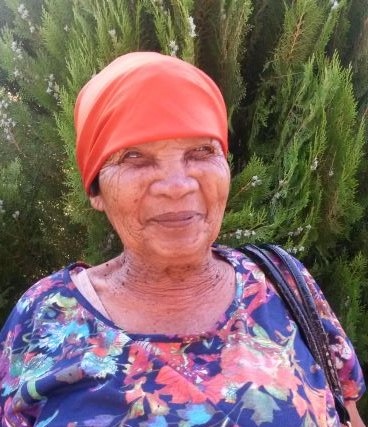 Ons is lief vir Ouma en ons is hartseer oor sy nie meer by ons is nie. Om haar te verloor, voel soos om 'n geliefde familielid te verloor. Daar is min mense in die lewe wat menseharte op 'n manier kon aanraak soos sy. Sy het ander mense stilletjies bekyk en hulle laat glimlag. Sy het ons siele verryk en ons voel steeds haar teenwoordigheid.
We love Ouma, and mourn her passing. Losing her feels like losing a beloved family member. There are few people in life who are able to touch hearts in the way she did, the way she was able to quietly notice others and make them smile. She raised our spirits and we still feel her presence in this world.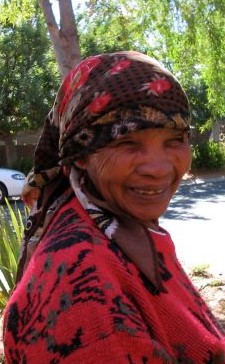 Vanjaar, te midde van 'n wêreldwye pandemie met sy onsekerhede het ons, ons Ouma Seekoei gegroet. Ouderdom het haar van ons weggeneem. Ons vereer hierdie juweel van 'n mens en gee erkenning aan die pad wat sy in die Suid-Afrikaanse erfenis geloop het. "Mooi loop Ouma, met jou mooiste kx'âi."*
This year, amongst the turmoil and uncertainty of a noisy world-wide pandemic, we quietly lost our Ouma Seekoei to old age. A jewel in South Africa's heritage, we acknowledge her and her unique journey, "Mooi loop Ouma, met jou mooiste kx'âi".*
Liefde | Love
Bonny Sands, Kerry Jones & Francoise "Betta" Steyn
*"kx'âi" beteken 'lag' in N|uu | "kx'âi" means 'laugh' in N|uu