Fallen Heroes: The battle against cancer continues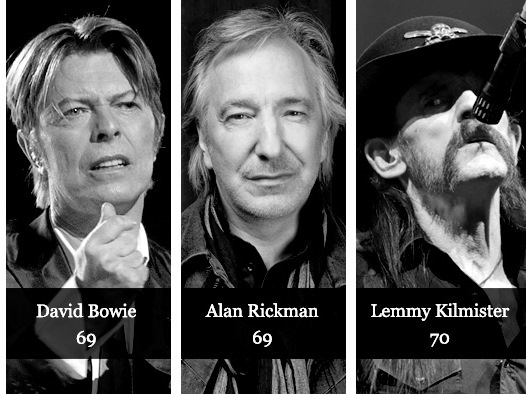 The year has barely begun, but already the death of David Bowie, Alan Rickman, Rene Angelil (Celine Dion's husband) and Lemmy Kilmister (Motörhead) has caused a social media outcry. Twitter erupted with a poignant image entitled "Dear Cancer" with the three men (Bowie, Rickman and Kilmister) defiantly giving a middle finger salute. The image has so far been shared more than 10,000 times and demonstrates the public outcry for cancer to be beaten once and for all.
The death of iconic musician and artist, David Bowie on 10 January 2016 after an 18 month battle with cancer has also inspired palliative care specialist Dr. Mark Taubert to write a blog highlighting the importance of advance care planning and hopes Bowie's death will inspire many people in similar health crises to consider palliative care.
Alan Rickman's (actor and director) death reportedly came after a short battle with pancreatic cancer. Steve Jobs, Patrick Swayze and Pavarotti all died of pancreatic cancer as well. There are no effective screening tests for pancreatic cancer, and it is difficult to diagnose.
The tragedy of losing these icons has propelled the ideology that a cancer cure is urgently required. This comes at a time when President Obama appointed Vice President Joe Biden to lead efforts to eradicate cancer during the State of the Union Address. Biden, who lost his 46-year-old son Beau to brain cancer last year, said at a World Economic Forum meeting of international cancer experts in Davos that the United States would speed up the approval of promising new drug combinations in the government's newly announced drive to cure cancer "once and for all".
Following in these footsteps, our research has the potential to address this devastating disease. It may be naïve to suggest that we can find a cure for every form of cancer, but it is clear that we can and should contribute towards the battle against cancer.
Vedantha Singh
Cancer Research Initiative