Postgraduate Cancer Research Initiative (CRI) Opens Door to New Postgraduates!
On behalf of Prof. Jennifer Moodley, we would like to extend a cheerful welcome to the new members who have joined the Postgraduate Cancer Research Initiative (CRI). As you are aware, this group was founded in 2015 as "Cancer PhD Mentorship Group" and was only for PhD students. This year, after much discussion, we extended the invitation and membership to MSc students doing cancer-related projects; hence, the name "Postgraduate Cancer Research Initiative". Therefore, we are delighted to have all the new postgraduate members from different divisions and departments join our group.
Our main goal is to offer mentorship to postgraduate students, identifying and assisting them in their areas of need in academics and research. It also provides students with the opportunity to share exciting ideas in cancer research. This is not limited to policy implementation, translational research, and any opportunities in the discipline.
Thanks to all the old and new members who made a huge effort to participate in our first two meetings (7th and 27th July 2017 chaired by Prof. Jennifer Moodley and Dr. Ramadhani Chambuso, respectively). To those that were unable to attend, it is our pleasure to welcome you!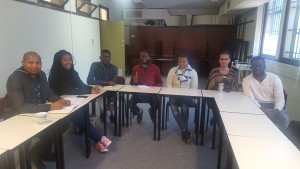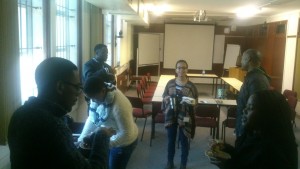 Photographs courtesy of Fleury A. N. Biteghe and Harris Onywera.