CRI Seminar: Hospital Cancer Databases
You are invited to a CRI seminar focusing on development and support of hospital cancer databases at the UCT/GSH/RCCH academic complex. The event will take place at the Barnard Fuller (Postgraduate Room 2) on 6th December 2018 from 14.00 to 16.00.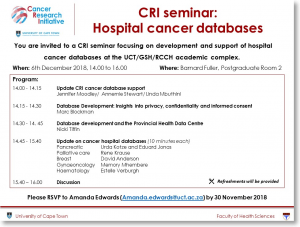 UCT Cancer Research Symposium
We would like you to diarize the Cancer Research Symposium that is being organized by UCT's Faculty of Health Sciences. The event will take place on 17th February 2018.
Kindly note that more information about the symposium will be availed in the coming weeks.
Health Sciences Library lectures
The Health Sciences Library has announced the start of the research lecture series from September – November 2015. 
 EndNote Mac  
This is an introductory session for EndNote for Mac
Wednesday 16/09 17:30 – 19:00
Repeat Tuesday 22/09 13:00 – 14:30
http://goo.gl/forms/Sq6KdZu211 
EndNote Windows  
This is an introductory session for EndNote for Windows
Wednesday 30/09 17:30 – 19:00
Tuesday 06/10 13:00 – 14:30
http://goo.gl/forms/LaHT5xnDFO  
Mendeley  
This an introductory session to Mendeley
Wednesday 07/10 17:30 – 19:00
http://goo.gl/forms/3lwWQzIVHp
Literature Review (1/3)  
Introduction to literature Review
Wednesday 28/10 17:30 – 19:00
Repeat Tuesday 03/11 13:00 – 14:30
Literature Review (2/3)  
Finding the best literature (Practical session)
Wednesday 04/11 17:30 – 19:00
Repeat Tuesday 10/11 13:00 – 14:30
Literature Review (3/3)  
Writing your literature review
Wednesday 11/11 17:30 – 19:00
Repeat Tuesday 17/11 13:00 – 14:30
http://goo.gl/forms/FQ5gyHDseY​
Tracking your academic footprint  
Sign up for ORCID and Google Citations; track your citations and how to find where to publish.
Wednesday 18/11 17:30 – 19:00
Repeat Tuesday 24/11 13:00 – 14:30
http://goo.gl/forms/BfCsXDjlgk
For more information please email Wendy.Smith@uct.ac.za