Cancer PhD mentorship networking breakfast

On the 2nd of June, the Cancer PhD mentorship group hosted its first annual breakfast networking meeting.
The breakfast meeting was held to stimulate collaboration amongst members and to introduce new PhD students to the Cancer PhD mentorship group.  The breakfast was well attended by new and existing members of the Cancer PhD mentorship group. In general, the feedback received was positive and members were glad to participate in future events.
Prof Jennifer Moodley, Director of Cancer Research and Deputy Dean of Research at the Faculty of Health Sciences welcomed members and provided a brief overview of the intended goals of the Cancer PhD mentorship group. Dr Rakiya Saidu, a clinician and PhD student described the challenges and barriers to conducing multidisciplinary res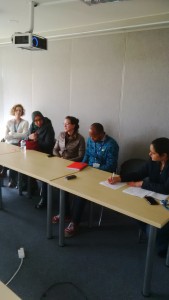 earch using her experiences. Dr Saidu noted that she managed to balance her clinical and lab research duties by maintaining clear channels of communication with supervisors and colleagues alike.
Dr Henry Adeola, a clinical pathologist and recently graduated PhD student briefly described his experiences during his time as a PhD student. He emphasised the need for students to engage with each other and develop collaborative research networks from the onset.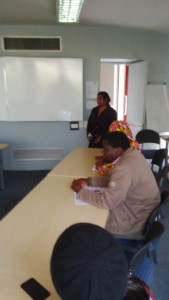 As a PhD student, this was a great opportunity for me to meet and engage with colleagues "in my shoes".Its great to know that the PhD journey does not have to bean isolated one. To commemorate the event, I have compiled a selection of photographs from the breakfast. (Pictures courtesy of Dr Henry Adeola and Vedantha Singh)
The next seminar entitled: "Cancer policies, key organisations and role players in cancer research", will be held in early August. If you would like to participate, let me know.  As always, we want to hear from you-so feel free to comment or email.