Simplified Test for Bowel Cancer Launched
By BBC Tayside and Central Scotland
Shared by Ramadhani Chambuso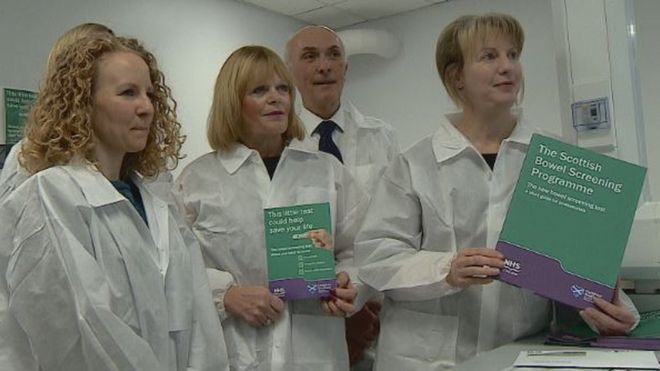 A simplified screening test to detect the symptoms of bowel cancer has been launched in Scotland following a successful pilot.
The new test only requires collecting one stool sample compared to the six separate samples previously required.
The test will be offered every two years to all men and women in Scotland aged between 50 and 74.
It is hoped the easier process will encourage more people to participate in the screening test.
Bowel cancer is the third most commonly diagnosed cancer in both men and women in Scotland.
About 3,700 new cases were diagnosed in 2015, with 95% of cases occurring in the over-50s.
The UK National Screening Committee recommended that the test is rolled out nationally after a pilot involving 40,000 people.
'Save your life'
Phyllis Weir from Lanark was diagnosed with bowel cancer in 2013 after taking the screening test.
She told BBC Scotland: "I was shocked at the fact I had bowel cancer because I had absolutely no symptoms at all.
"I would urge people to take this test because it can save your life.
"I wouldn't be here today if I hadn't taken the test.
"I have spoken to so many people since then who would still have their tests sitting in their bedroom drawer if they hadn't heard my story."
Visiting the Scottish bowel screening lab in Dundee's Ninewells Hospital, Health Secretary Shona Robison said: "Early diagnosis is crucial to saving lives.
"More than 90% of bowel cancer cases can be treated successfully, if diagnosed early.
"The new test is easier to use than the previous process and this will increase the number of people completing screening.
"This will enable us to detect more conditions at an earlier stage, helping more people to beat bowel cancer than ever before."
Source link: BBC Tayside and Central Scotland.