Oncopig  Cancer Model: A New Approach in Cancer Research for Humans
By Ramadhani Chambuso
Oncopig Cancer Model is a novel transgenic swine model that recapitulates human cancer through the development of site and cell specific tumors. For decades, cancer research progress has been markedly hampered by the lack of a phenotypically, genotypically, anatomically, and physiologically relevant large animal models.
On the other hand, small animal models, such as mouse models, have played a major role in our understanding of the genetic basis of cancer and the role of specific genes and gene mutations in the development and progression of cancer. However, due to vast differences between humans and rodents or zebrafish for example, the ability to model complex diseases such as cancer and translate results into clinical practice is quite limited
In a nutshell, large animal models of cancer comprise a smaller portion of cancer models than small animal cancer models. Therefore, these large animal models recapitulate transcriptional hallmarks of the human disease while also exhibiting clinically relevant histologic and genotypic tumor phenotypes.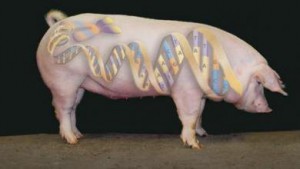 Source link: Schachtschneider et al. (2017)