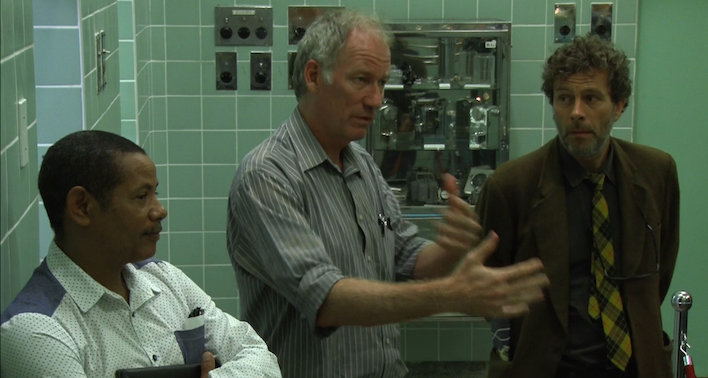 From left: Stanley Henkeman, Prof Steve Reid (lead educator) and Dr Peter Anderson 
Earlier this year the first two UCT MOOCs, Medicine and the Arts and What is a mind?, launched on the the FutureLearn platform. The next iteration of Medicine and the Arts starts on 21 September 2015 – sign up here. With several more courses in production, we are reviewing what we are learning about designing and delivering open online courses through analysing the participant interactions, survey responses and data analytics generated during the course run.
Reach and coverage
Enrolments across the  two courses attracted  more than 20 000 people, who came from an interesting diversity of backgrounds – not only geographically (participants came from over 120 countries – see map below), but also with different perspectives and contexts.  For example, in the Medicine and the Arts course, significant numbers of patients, as well as the expected healthcare practitioners and artists joined, making for rich sharing of experiences and perspectives.  Compared to other FutureLearn courses, UCT courses have attracted a higher than usual proportion of South African participants – 21% (Medicine and the Arts) and 14% (What is a mind?).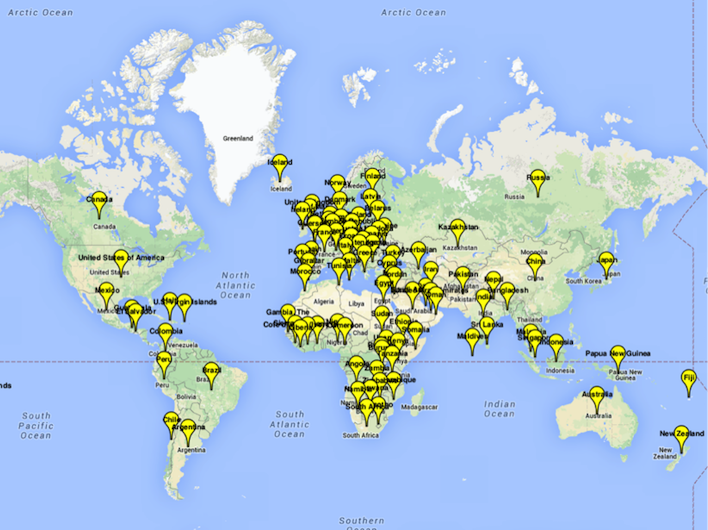 There was a full spectrum of ages (from teens to retirees), but more women than men joined the UCT courses (62% for What is a mind?  and  81% for Medicine & the Arts), and  consistent with other sources, the majority of people already had university degrees.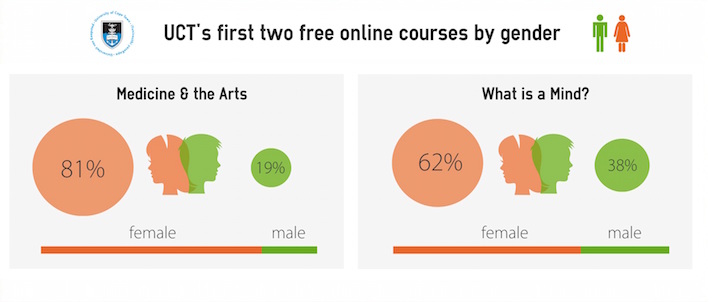 Scale of participation
The taught Masters course upon which the Medicine and the Arts MOOC is based normally enrols up to 20 postgraduate students each time it runs.  The MOOC, which takes a small selection of the topics and introduces the medical humanities, had more people fully participating than the academics are likely to reach in many years of teaching the face-to-face masters module.
Participant interactions
Creating and running this Massive Open Online Course (or MOOC) was a new experience for the course team. Lead educator Professor Steve Reid wrote to participants after the last week of the course "Even as we head towards the end of the course this is just the beginning in some ways: new ideas and connections, new ways of thinking, and for us new ways of teaching and learning over the internet, are the start of new projects and different ways of doing things".
In the words of Medicine and the Arts course participant, Cilla Sparks, I have so enjoyed the breadth of this course, the bringing together of so many diverse perspectives. This "cross fertilisation" has given me many new ideas to explore around creativity, play, epigenetics, ancestry, linguistics and, above all, the interconnectedness of our minds, bodies and souls, as well as our whole planet. Not bad for a 6 week course!  And Samantha Clark said  "I love(d) the fact that people from around the world with different experiences, from different backgrounds and from different specialities can come together to discuss the same topics and learn from each other.               
The high level of social learning in the courses was surprising and rewarding. Even with large numbers, there was still traditional cohort behavior – with students logging on at the beginning of modules, participating in active online discussions in response to video lectures and reviewing each others' assignments.  
Deep engagement with the content was evident – for example, Italian doctor, Andrea Mazzella  made the most 'liked' comment made during the the course:
Many are interpreting "medical humanities" as a way of making modern medicine more humane, because it is allegedly technology-bound, hyperspecialised and distant from the actual people and their problems. As a junior doctor I can say that this should be only part of the field's aim, also because – let's not forget – technology, drugs and specialisation are a great advance to medicine, which would have dramatically fewer options if they did not exist.
In my opinion this field is concerned with this question:
"How does society handle the concepts of illness, disability and death, and how can people be prepared for the inevitable manifestation of these?"
As expected, with the voluntary low stakes MOOC format, there were many who did not complete the entire course, but comments from those who did are an indication of the value of open learning, and demonstrate the positive exposure for UCT :

This was my first online course (as well as my first course in the past few years in general, as I usually put them together and follow them through with students of my own). Still, I have to say that my expectations for the next course have been considerably raised after six weeks of stimulating and inspiring videos, articles, 'conversations' and comments of other course participants. A big thank you to all of you and to our educators from UCT! (Iva Bura, Croatia)

This course has been very interesting and has definitely shaped the way I view patients in the medical profession. I've now realized how distant one can be when working with people with medical conditions and through this course I have grown to love and consider the social aspect of patients as being crucial to advancing the care that they receive. A big thank you to Prof Reid and his team for pulling off this amazing course. I happy to add yet another UCT course behind my name. (Mapitso Thaisi, South Africa)

These observations and reflections help us learn about designing online learning in formal and informal contexts. CILT's role has been to help the academic course conveners design engaging learning pathways through an online course at scale and to create short, powerful video lectures for use in this environment. The experience and skills being gained in the partnership between the learning designers, video producers and academics in the course creation teams has already been useful in thinking about mainstream provision for online courses at UCT.  In the words of Associate Professor Susan Levine, co-convener of Medicine and the Arts,  As the first MOOC (Massive Open Online Course) to be offered by UCT, we have been very encouraged by its success, and it will have a definite impact on our teaching from now on. Our face-to-face students on the same course have given us the opportunity to compare learning online with that of the classroom, and the differences are fascinating.