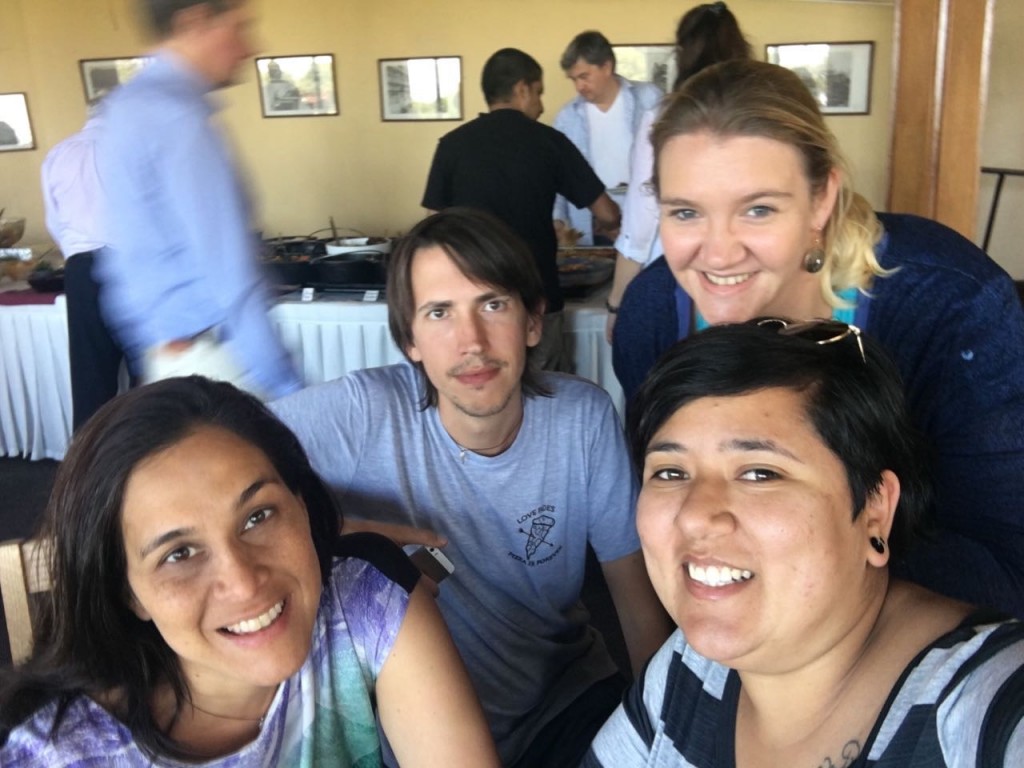 "My favourite thing about working as part of the MOOC team is knowing that people are really learning because of what we are doing." Words that sum up the feelings of some of the most important people of the MOOC team, our digital media unit (DMU).
Our DMU are the people behind the academics in the MOOC. You could say they're the secret ingredients, for without them, there would be no visual representation that make a MOOC.
The team consists of four extremely talented individuals, Nawaal Deane, head of the unit, Rondine Carstens, digital media designer and Kristi Edwardes and Don Leitch our two video producers.
It is not uncommon to see these four trekking up a mountain, in the rain or dressing up in full medical scrubs just to get the perfect shot.  
According to Kristi "the most exciting thing about being part of this team, is being able to learn new things every couple of months! So far I have learnt about programming languages, (Julia in particular) Extinctions and Organ Donation. This has been so interesting and enriching and, particularly after our Organ Donation MOOC, I honestly will never watch Grey's Anatomy (medical dramas) the same way again!"

With a BA in cinematography from AFDA and an extensive freelance portfolio Kristi was really excited to be part of a team working in education. "Growing up, I wanted to be a teacher but after watching my father in the film industry and seeing how fun and dynamic it is, I decided to switch paths. My interest in education is still there and I wanted to find a way to merge my two passions but never knew how; MOOCs is that perfect balance."
Besides learning about new concepts, working on MOOCs provides a more nuanced understanding of using video as an educational tool. Having lectured at AFDA before, this sentiment is felt by video producer Don, who shared that his "highlight of working on MOOCs is the creative and collaborative process of finding novel and effective ways to use video as an educational medium. Working with academics and the mutual learning process through shared expertise is extremely rewarding."
Don has spent quite a bit of time thinking about using video for education and how it is different to video for entertainment (read his blog here). Although Don's primary expertise is in video editing, he has experience in cinematography, sound design, animation, directing and script writing. He has also been involved in several award-winning short films, music videos and commercials.
For Rondine, being part of the team that launched the first MOOC from a South African university  (Medicine and the Arts) is a "privilege and an amazing experience." Rondine is the longest standing member of the DMU and also the one who creates all the beautiful imagery used throughout the courses. She is, however, much more than a designer and the department as a whole would be at a loss without her.
One of her core drives in life is usability and user experience design, which she enjoys thoroughly as it encompasses her design background and skills, technology and development knowledge, as well as her passion for people.
Nawaal, affectionately know as the 'boss lady', has the mammoth task of overseeing everything from filming to editing and post-production. Her nickname is apt given that she has the ability to produce high-quality work while putting the well-being of her team first.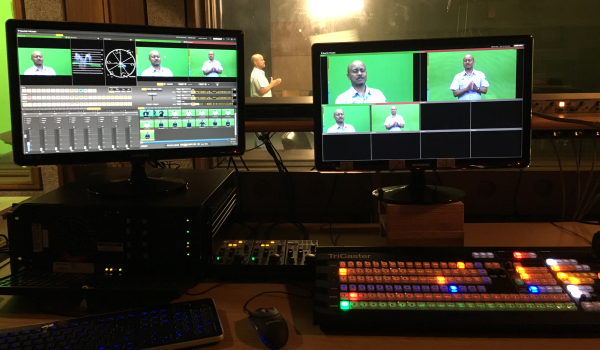 Having worked with various UCT departments over the years, Nawaal is not new to the concept of using video to facilitate learning, "I am excited to play a central role in the MOOCs' project at UCT, to explore the various methods of creating video as a learning tool in support of student learning, as well as have to work with academics who use and research open education." Nawaal truly believes that video as a learning platform is the future.
She has worked for local and international broadcasters shooting news and feature length documentaries. "What struck me working in the mainstream media, was how inaccessible and costly video production and distribution was. But now I am excited to be part of a tipping point, where students and academics have access to create and share their own educational videos and contributes to the philosophy of open education.
When viewing the finished product, it is hard to realise how many hours have been spent editing videos or making the twentieth change to an image or animation just so that it is perfect. In 2016 the team received two Marketing, Advancement and Communication in Education awards: An Award of Merit in the 'Skills division: Videography: Feature short' division for the promotional videos of Education for All: Disability, Diversity and Inclusion and Becoming a changemaker: Introduction to Social Innovation.
Next time you take a MOOC give a thought to the DMU's that put in hours upon hours of creativity and passion, to bring you education that is not only informative but visually entertaining and accessible to all.